NC Principal Fellows Director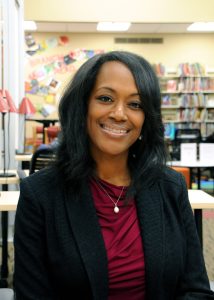 Catherine Edmonds, Ed.S.
Director of School Leadership
919-843-6736
ebedmonds@northcarolina.edu
Catherine Edmonds recently began her duties as Director of the Principal Fellows Program in July, 2016.  She brings experience as a teacher, principal, professional developer, leadership coach, and education reformer. She has devoted her career to working with challenging districts and schools to improve academic outcomes for their most struggling students. She has provided coaching support to superintendents, district leaders, school boards, and school principals in developing strategies that maximize their leadership capacity and growth in instructional leadership skills.
Before joining the UNC General Administration, Catherine served as the Director and Executive Coach for the Northeast Leadership Academy District and School Transformation (NELA DST) at North Carolina State University. In that position, she provided professional development, coaching, and technical assistance to aspiring school leaders in high-need schools. Prior to her service with NELA, Catherine served as the District Transformation Coach Team Lead for the North Carolina Department of Public Instruction (NCDPI). In that position, she led reform efforts to turn around low-performing schools and improve educational outcomes for under-performing students. In 2012, the District and School Transformation Team led by Edmonds received the State Superintendent's Team Leadership Award for their outstanding performance in turnaround work. Catherine has also served in the role of teacher (Granville County), school principal (Granville County), area superintendent (Guilford County Schools), and program director (North Carolina New Schools Project).
Catherine earned her BA in Mathematics Education from North Carolina A&T State University.  She received her MSA from North Carolina State University, where she is currently completing her doctoral degree in Educational Administration and Supervision. Edmonds was the recipient of the 2013-2014 Wilcox-Hodnett Doctoral Fellowship for Public School Administrators in North Carolina.
Principal Fellows Commission
PFP is administered by the North Carolina Principal Fellows Commission in collaboration with the North Carolina State Education Assistance Authority (SEAA); both agencies are affiliated with the University of North Carolina, General Administration (UNC-GA). Selection criteria, the selection process, selection outreach efforts, renewal and continuation criteria and liaison with the educational community are the responsibilities of the Principal Fellows Commission. The Commission is staffed and chaired by the Director of the Principal Fellows Program. Rules to administer the PFP are the responsibility of the Board of Directors of SEAA.
Each university has a campus coordinator who provides leadership to each cohort of Principal Fellows on the campus. Campus coordinators provide mentoring, and coordinate a variety of experiences for the Fellows including enrichment activities such as seminars and workshops and site visits to school districts, businesses and educational organizations, and supervise the internship which occurs in the second year. The coordinator works closely with Fellows to ensure they have a successful experience in the program.